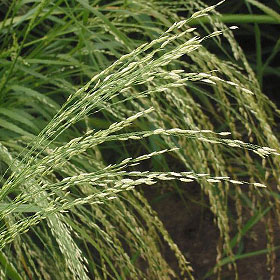 What is it? Teff, a variety of millet, earns the title of world's tiniest whole grain, which explains why its name comes from the Amharic word teffa, which means "lost." Its origins are in ancient Abyssinia - the area of Africa that is now Ethiopia and Eritrea. And if you've ever dined in an Ethiopian or Eritrean restaurant, you have probably eaten teff. It is teff that is ground to make injera, the thin, spongy, sourdough-like bread that sops up all the spices and flavours of the cuisine.
What is it good for? Like other grains, teff contains a good serving of fibre, 15 grams per uncooked cup! That's 62% of the daily recommended intake of fibre, which is crucial to heart health and proper digestion. And a little bit of teff goes a long way. In one cup of cooked teff, you consume 10 grams of protein, only 2 grams of fat, and 255 calories. Teff is high in many vitamins and minerals, including calcium, magnesium, iron, and vitamin B6. It is also a safe food option for those following a gluten-free diet.
What does it taste like? Tiny teff ranges from white to reddish-brown in colour, with the flavour shifting from mild and nutty to sweet and molasses-like as the grain darkens. In addition to its use in injera, teff is quite versatile and easy to prepare. Teff can add heft to soups and stews or sub for other grains in baking of breads, biscuits, and cookies. Uncooked teff adds a crunch similar to sesame seeds. Store teff in an airtight container kept in a cool, dry, dark spot.
Amy Toffelmire
---