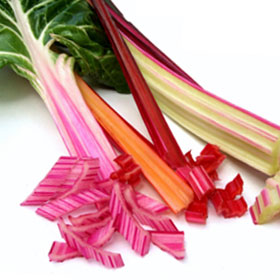 What is it? Swiss chard grows up in tall chutes from the ground, its ruffled green leaves fanning out from a thick stalk of white, yellow, or perhaps red. Broad veins snake through the leaves in shades matching the stalk. Not native to its national namesake, Swiss chard actually grows all over the place, but especially in spots of soil with conditions similar to those in the Mediterranean region. It comes in a rainbow of colours and goes by a variety of names - silverbeet, Sicilian beet, Roman kale, among others that link it to its botanical brethren, including kale, spinach, and beets.
What is it good for? Chard's shiny, hardy, and vibrantly green leaves give away its amazing nutritional pedigree. This is a vegetable packed to overflowing with good-for-you reasons to add it to your weekly shopping list. One cup of nutritionally dense boiled chard provides over 100% of your daily recommended intake of both vitamins K and A. That same cup also boasts more than half of your day's needs for vitamin C and loads of other nutrients, namely fibre, vitamin E, and the minerals magnesium, potassium, iron, calcium, and a host of B vitamins. And you get all of that for a measly 35 calories (yes, you read that right).
Here's a quick rundown of the ways Swiss chard can support your health:
The abundance of vitamin K in chard helps the proper clotting of blood.
Eat chard and you'll have the super antioxidant trio of vitamins A, C, and E. Vitamin A supports your vision, and the antioxidant activity of vitamins C and E may help lower the risk of diseases associated with free radical damage.
Chard contains fibre, which helps lower high cholesterol levels that can lead to heart disease. It also helps keep blood glucose levels under control and supports digestion.
The minerals magnesium and potassium present in chard work to keep your nerves and muscles functioning properly, helping to prevent problems ranging from high blood pressure to muscles cramps and migraines.
What does it taste like? Leaves of chard remind the palate of spinach - earthy, sweet, but a bit more bitter - and its stalks crunch like celery. Choose chard as fresh as you can find it - straight from the garden or nearly-as-fresh from a farmer's market stand. Otherwise, opt for a bunch that looks crunchy, not wilted, and vividly green with no brownish or yellowish patches. Chard will keep well, for a few days at least, if you refrigerate it unwashed in a plastic bag. Always wash well, since chard can be sandy. Quick-steamed, the greens take on a new texture, one with less snap and more give. Cooking chard for too long may cook away some of its nutrients and make it too soppy, so stick to a short steam or sauté. Chard plays well with garlic, olive oil, and crushed red pepper. It also blends naturally with creamy ingredients like cheese, eggs, and milk. Stir chard into a pasta sauce for extra nutritional density or let it lace its leaves and stalks around cannelloni beans and other vegetables in a filling, Italian-inspired soup (viva ribollita!)
Amy Toffelmire
---