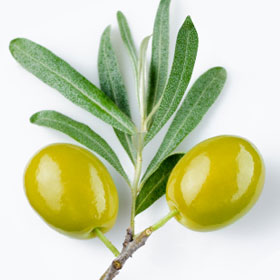 What is it? The olive tree is the heart of Mediterranean cuisine. Its versatile, delicate oil boasts big nutritional benefits, and the tiny oval fruits sprouting from its branches boost the taste of pasta dishes and pizzas. Dozens of varieties, like green Manzanillas, often pitted and stuffed with pimento, or salty purple-brown Kalamata, offer a range of savoury flavours from the bitter bite of fresh, unprocessed olives to the smoky, salty, or sour zest of processed olives.
What is it good for? While olive oil gets more attention in the nutrition press, olives themselves possess their own advantages. Like its oil, an olive is high in "healthy" monounsaturated fat, mostly in the form of oleic acid. Olives combine this fit fat with antioxidant vitamin E to help protect cells from inflammation and free radical damage, which may reduce cancer risk and the blood vessel damage that can lead to heart attack or stroke. Additionally, olives are a good source of iron, copper, and fibre. And though one cup of olives contains nearly half of a day's recommended sodium, it only takes one or two olives to perk up a dish and sub for salt.
What does it taste like? Bite into an olive plucked right off of a tree and you'll be overwhelmed by the fruit's natural bitterness. That's why most olives go through minimal processing, usually packed in brine and fermented. During fermentation, olives may change colour along with their flavour. The green varieties you see are those picked while unripe. Green olives are plumper, firmer, and will taste sharper than darker olives. Black olives have either been allowed to ripen or been in brine longer. Either way, dark-coloured olives have more oil, making them softer with a milder flavour. Olives pressed for oil will render a delicate taste upon first pressing (extra-virgin olive oil), which will become less delicate with each subsequent pressing. Many grocery stores sell olives in bulk barrels filled with brine, which allows customers to sample an assortment. Loose olives can stay fresh for a few days refrigerated in an airtight container, but bottled olives will last for up to a year. Olives fit right in to Mediterranean cuisine, but they're a favourite of other regions, too. Coarsely chopped green olives go great in bread spreads, like in the New Orleans classic muffuletta. Or chop them finely to make a French tapenade.
Amy Toffelmire
---