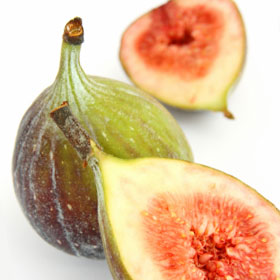 What is it? The modest-on-the-outside fig holds a special place in the world of fruits. Teardrop-shaped and smooth-skinned, figs come in a variety of colours and hail from the Middle East and Mediterranean regions and other places that have a similar climate. It is the flower and fruit of the ficus tree - a tree that was revered as sacred by ancient Romans, dating back thousands of years with origins in the cradle of civilization. Fresh figs are among the most fleeting and fickle of fruits, perishing within days of ripening and delicate in transport. Often eaten dried for that reason, figs are also commonly used as filling for cookies.
What is it good for? Figs are small, low-calorie fruits, but they are densely packed with nutritional benefits. Potassium, which is essential for proper heart, kidney, and muscle function, is abundant in figs, as is bone-building calcium. And 8 ounces of fresh figs yields 30% of your daily recommended fibre. As with any fruit, figs are a great source of antioxidant vitamins. Extract of fig leaves has also shown potential to support the health of people with diabetes.
What does it taste like? The experience of eating a fig is one of the more complex, surprising gifts of the natural world. It's definitely an acquired taste, much of it to do with the fig's texture. At turns smooth, gritty, chewy, and crunchy, a fig's skin, flesh, and many tiny seeds combine with a sweet flavour and a honey-like scent to give a delicious and - some would say - sensuous eating experience.
Dried figs are available all year round, but take advantage of the fresh fig season that usually lasts from June through September. Seek out plump, tender, deeply coloured figs. Avoid mushy figs. Be warned: a fresh fig won't stay fresh long, so keep them in the fridge and enjoy them within a couple of days of purchase. Figs are the type of fruit that are best eaten raw and right out of your hand. They can also be poached in wine, stuffed with goat cheese, blended into a smoothie, or sliced and added to ice cream.
Amy Toffelmire
---